I have been anxiously awaiting the return of this game.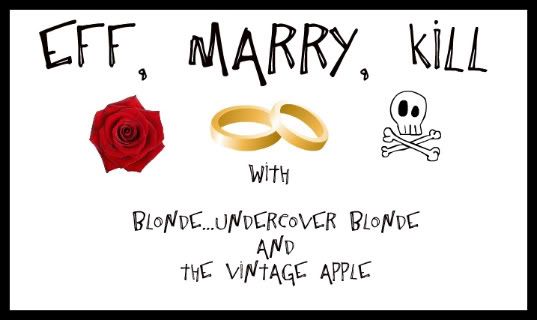 After scouring my brain for what three men I will be deciding from, I had a light bulb go off. OF COURSE! I'll do the 3 dads from Three Men & A Baby (and Three Men & A Little Lady) What girl my age doesn't LOVE these movies?? So here are my choices for my link up with The Vintage Apple
Eff: Jack Holden (Ted Danson)
Sure, he's a little irritating, but just for one night. And he's funny. Obviously many forms of birth control would be used as we know he is proficient at making babies.
Marry: Peter Mitchell (Tom Selleck)
He's caring, attractive, has a good job. Sure, there's that thick creepy mustache, but I think I could get over it. Or maybe he would shave it for me?
Kill: Michael Kellam (Steve Guttenberg)
Yeah, so he can draw. That's awesome. Maybe I'd get him to draw me a picture before I said bye bye.